Copenhagen November 25, 2021
Emerald Publishing: A Transition Toward a More Open Future
Emerald Publishing and ChronosHub have entered an ambitious partnership to help embrace a more simplified and collaborative future for the research community!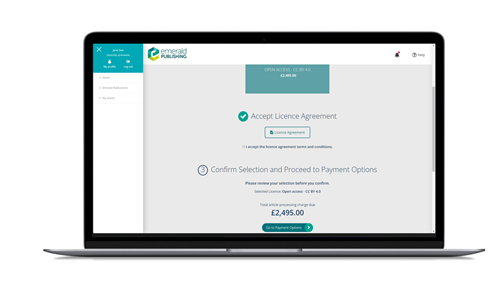 About 
High Ambitions for Open Research
Emerald Publishing is a medium-sized, family-owned publisher based in Yorkshire, UK. With a portfolio of 350 journals, 500,000 researchers in over 130 countries, and 80,000 submissions per year, Emerald aims to provide an outstanding end-to-end author experience. With high ambitions for driving open research, Emerald has developed a variety of routes to publish openly – and is looking to enter more transformative agreements in the future to help serve all customers with a seamless workflow for approvals, payment reporting, and data access.
Challenge

Fragmented, Costly, and Time-Consuming
For all stakeholders in the research cycle, there are several common challenges and complexities with open research – for Emerald, there's pervading confusion among researchers as to where they can publish their work without running the risk of being non-compliant. They don't always know where to find Emerald's deals, nor do they know what they're eligible for, and many researchers, particularly in the social science segment, aren't necessarily aware of the differences between the different OA routes. Publishers are increasingly developing new business models as a response to funders and requests from librarians, only adding more complexities and challenges with compliance. The situation in the research ecosystem is fragmented, costly, and time-consuming.
Solution

A Simplified Research Experience
To address the challenges, Emerald Publishing partnered up with ChronosHub on a collaborative journey to drive OA research and break down barriers to create a more simplified research experience for institutions, funders, consortia, and, particularly, the researchers. With an integrated ChronosHub journal finder, compliance checks are made much easier as researchers can search through all of Emerald's journals and check for compliant routes in relation to different funding policies. Likewise, the service includes automated recognition of potential waivers, discounts, vouchers, and Read & Publish agreements. The researcher can easily submit articles directly through the platform, and ChronosHub picks up all article meta-data and ensures that any potential changes to affiliations are taken into account after peer review checks.
Looking ahead
The Best is Yet to Come
Ultimately, the partnership between Emerald and ChronosHub paves way for the development of a much more collaborative and holistic system that aims to unburden the researcher and simplify all processes for everyone in the research cycle – an important step in the transition toward a more "open" future. The platform is expected to go live early next year.